Why Sea Facing Flats in Mumbai Never Go Out of Style

30 September, 2021

4 mins read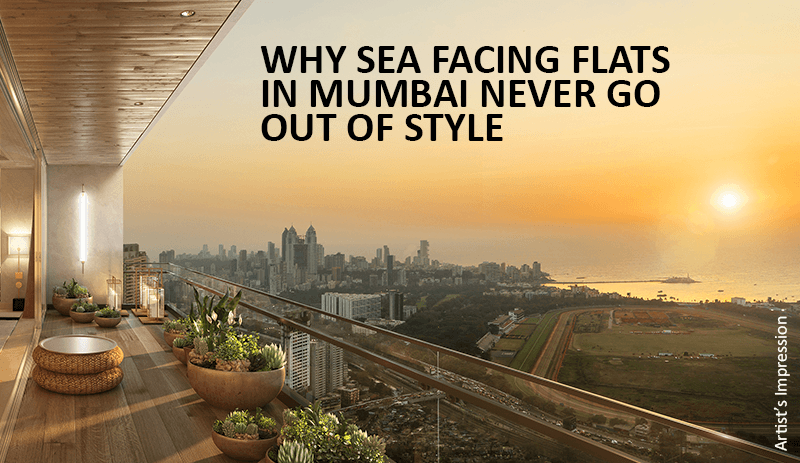 Mumbai, India's financial and cultural hub, is ever-growing. The city that never sleeps is home to so much diversity that every single person who arrives with stars in their eyes and hope in their hearts can find a warm home here.
Like its people, the localities in Mumbai are also unique and diverse. From the bustling by-lanes of Dhobi ghat to the quaint hills of Bandra, from the towering skyscrapers in the Andheri suburbs, and the heritage architectural homes of South Mumbai – every area has something distinct and special to offer.
Despite all these disparities, one thing that Mumbaikars have in common is their love for a sea-facing flat in Mumbai. A sea-facing flat in Mumbai can mean a lot of things – elite, scenic, and peaceful, among various other things.
Here are why sea-facing homes in Mumbai are forever in demand.
Picturesque views and peace of mind
One of the main reasons why people aim to get a sea-facing flat in Mumbai is because of the prospect of waking up to a beautiful sea and beach view every day. Most of the time, the surroundings you live in influence how you feel. Living in a serene and peaceful environment positively impacts your health and well-being and accords peace of mind.
According to a survey, it has been found that 82% active professionals, 70% retirees and 52 per cent holiday home buyers prefer sea-facing properties. Also, 38% people choose sea-facing apartments for luxury living while 34% people prefer such homes for the view.
Imagine opening up your curtains and windows to the fresh air, the sound of the crashing waves, and the glorious view of the Arabian sea every day. Sea facing flats guarantee a picturesque view 24x7, which is one of the prime reasons buyers want to get one.
Affluent locality and accessibility to premium amenities
A sea-facing flat in Mumbai speaks a lot about your status and success in life. As most sea-facing apartments and complexes are in posh locations, it is a given that only those who have arrived in life could afford such a space. Moreover, affluence does not only mean exclusiveness or status. It also means that the neighbourhood you live in is safe, peaceful, and respectable and where you have easy access to several essential and luxury amenities.
Most sea-facing flats have esteemed educational institutions, premier healthcare hospitals, classy cafés, restaurants, among plenty of other amenities that guarantee a socially enriched life at close quarters. Most sea-facing flats in South Mumbai are in demand for this reason and sought after as the social infrastructure promised by them are supreme.
Seamless connectivity
As most of the sea-facing flats in Mumbai are in South Mumbai, they are geographically well-located vis-à-vis the rest of the city. Getting to the suburbs from South Mumbai is a breeze through road travel or the extensive Mumbai rail network.
Moreover, as most of the commercial workspaces and social hotspots are in South Mumbai, daily commute to work is a breeze and you also get to unwind by the beach at your whim. This recreational and social advantage has forever kept up the demand for sea-facing apartments in South Mumbai .
Areas in South Mumbai like Mahalaxmi, Nariman Point, Marine Drive, Nepean-sea Road, Colaba, Walkeshwar and Breach Candy have the most luxurious sea-facing flats. Sea facing flats in South Mumbai offer a premium residential space, beautiful views, good connectivity and luxurious amenities. Getting a sea-facing flat in Mumbai is an unparalleled lifetime experience in itself!
If you are looking for a sea-facing flat in a premium location in South Mumbai, come visit us at Piramal Mahalaxmi. And, to add to the picturesque view of the tranquil Arabian Sea, you also get a panoramic view of the majestic Mahalaxmi Racecourse. You can also check out the website for a virtual tour of the apartments and the property.
Survey source –
https://housing.com/news/affluent-indians-prefer-sea-facing-properties/
https://www.moneycontrol.com/news/business/personal-finance/want-to-invest-in-a-beach-front-house-heres-a-check-list-to-keep-in-mind-4475821.html